Practice Areas
We handle utility and design patents, trademarks, and copyrights.
Our Patent Attorneys
Our patent attorneys have technical degrees in chemical engineering, metallurgical engineering and material science, electrical engineering, medicine and the chemistry and biochemistry sciences.
Attorney Biography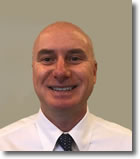 Larry Moore
Attorney at Law
Phone: 513-229-0383 x110
Fax: 513-229-0683

Download vCard

Larry Moore specializes in preparation and prosecution of patent applications related to electronics, electrical devices and components, software and controls systems. He joined Hasse & Nesbitt in May 2017.
Larry began his technical career with the US Air Force, as an Electronic Warfare Systems Specialist, graduating with Honors in 1984 (Keesler Air Force Base, Mississippi).  Larry then obtained his BS degree in Electrical Engineering in 1991 from Ohio Northern University (Ada, Ohio), and his JD law degree from Ohio Northern University in 2001.
Larry also has been a Consultant Engineer with J.S. Sawvel & Associates from 1991-1994, consulting with municipalities on data acquisition systems for gas and electric utility systems further specializing in the drafting of feasibility studies and consulting engineer's reports for the purpose of licensing and financing hydroelectric plants on the Ohio and Mississippi Rivers.  He also as a lead design engineer for AT&T/Lucent Technologies from 1994-1998, designing and managing functional solutions for all analog, digital, and RF circuit packs and cellular system test.
After Larry earned his law degree, he practiced as an attorney in patent practice from 2001-2005, with the firms Wood, Herron & Evans, LLC and Tucker, Ellis & West, LLP.  prosecuting utility patent applications relating to multifunctional printer devices, wireless networking technology for clients such as Canon and Cisco Systems, and RF communication and cellular technology for clients such as Andrew Corporation and Escort, Inc. 
Before joining Hasse & Nesbitt, Larry owned and operated Ultra Fi, a design, prototyping, and manufacturing company specializing in award-winning audiophile cables, digital-to-analog converters, and vacuum tube amplifiers.
He is licensed to practice law in the State of Ohio.